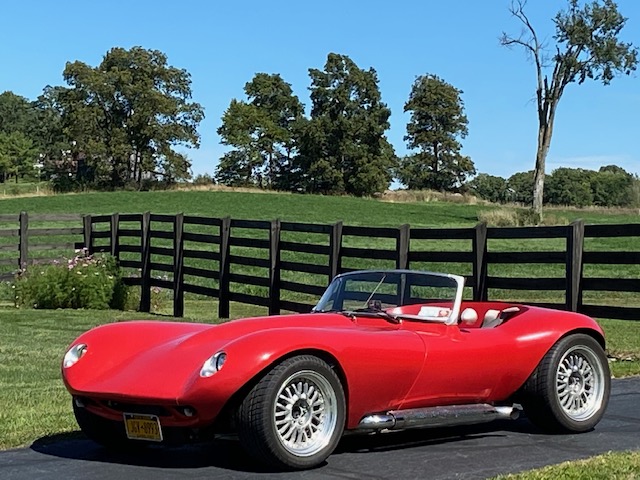 Chesnut "Cheetah" Kit Car
Inspired by the 1964 Cheetah Race Car
A Chevy-powered alternative to the Cobra
Specs
Total weight with an all iron SBC engine, Richmond 4 speed all fluids and 6 gals of fuel is under 2000lbs. John's car weighs 1912 lbs with fluids and 6 gallons of gas 
50-50 weight distribution
4.5 inches of ground clearance
144 inches overall length
42 inches to the top of the windshield
72 inches wide at the rear wheel arches
70 inches wide at the front wheel arches, Tires shown in the picture are 275/40 – 17
What You Get
Fully welded, unpainted space frame
2 Piece hand laid body in white gel coat. The body will have the radiator ducts glassed in. The hood tilt assembly bolts to these. The body will be mounted to the frame.
Cut and bent to fit aluminum panels that are required to finish of the frame.
Build handbook with parts list
Access to John to answer any questions
History
John has been designing and building cars for over 23 years. Several cars have been featured in various car magazines and one was selected to be featured at SEMA and the Hot Rod Hall of Fame ceremony. John has successfully raced his cars at events such as Run & Gun, and has fielded several different types of cars with his mechanical engineer son, Johnny.
FOB Elizabethtown, NY
Free pick up and help loading or John can mount casters to the frame that allows the kit to be rolled into a trailer or transport truck.
Price: $8999*

$1000 Deposit

Balance due on pickup

*price subject to change
"I appreciate that John takes his time to explain what needs to be done in a way that I can understand."